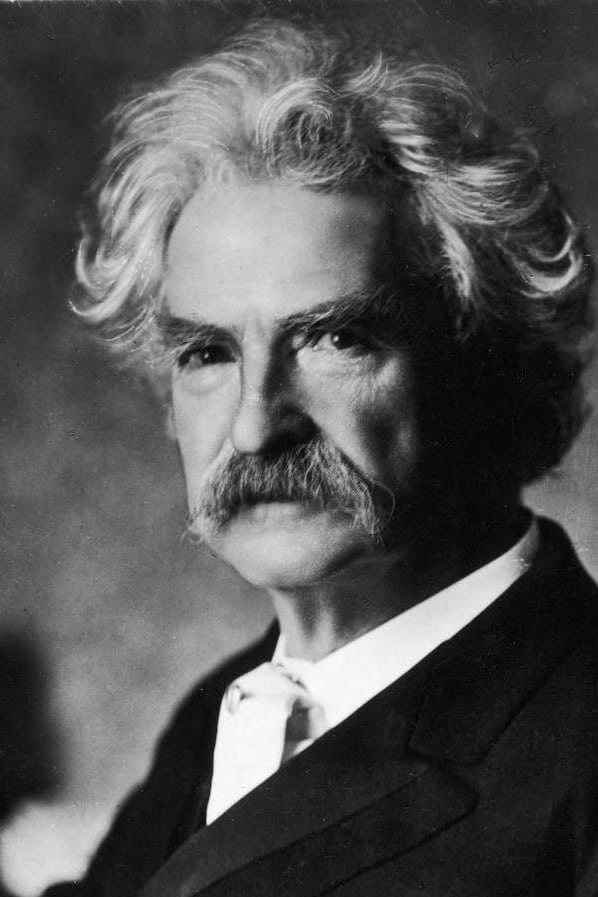 Biografia
Samuel Langhorne Clemens (Florida, Missouri, 30 de novembro de 1835 - Redding, Connecticut, 21 de abril de 1910), mais conhecido pelo pseudônimo Mark Twain, foi um escritor e humorista estadunidense crítico do racismo. É mais conhecido pelos romances The Adventures of Tom Sawyer (As aventuras de Tom Sawyer,1876) e sua sequência Adventures of Huckleberry Finn (1885), este último frequentemente chamado de "O Maior Romance Americano".

Twain cresceu em Hannibal, Missouri, que mais tarde serviria de inspiração e cenário para inglês sankanka, Huckleberry Finn e Tom Sawyer. Após trabalhar como tipógrafo em diversas cidades, ajudou Orion, seu irmão mais velho, na administração de um jornal. Na ocasião, exerceu diferentes funções, como impressor, tipógrafo e colunista. Tornou-se em seguida piloto de barcos a vela no Rio Mississippi, antes de se dirigir ao oeste para juntar-se a Orion em diligências a serviço do governo. A jornada com o irmão terminou quando Twain decidiu trabalhar como mineiro na extração de prata. Frustrado em mais esse intento, experimentou posteriormente carreira no jornalismo. Enquanto repórter, escreveu o conto humorístico The Celebrated Jumping Frog of Calaveras County, que alcançou imensa popularidade e atraiu para seu autor atenção nacional. Seus diários de viagem, lançados depois, também foram um sucesso. Twain encontrara sua aptidão.

Ele obteve grande êxito como escritor e palestrante. Seu raciocínio perspicaz e suas sátiras incisivas renderam-lhe a admiração de seus pares e o enaltecimento dos críticos, e Twain manteve boas relações com presidentes, artistas, industriais e a realeza europeia. Ele foi laureado como o "maior humorista americano de sua época", sendo definido por William Faulkner como o "pai da literatura americana".

Apesar disso, faltava-lhe perspicácia financeira. As somas consideráveis que amealhou com seus escritos e palestras foram desperdiçadas em diversos empreendimentos, em particular o Paige Compositor, o que acabou por forçá-lo a declarar falência. Com a ajuda de Henry Huttleston Rogers, no entanto, Twain superou seus problemas financeiros. Ele trabalhou arduamente para certificar-se de que todos os seus credores fossem pagos, mesmo que a condição de falido o isentasse da responsabilidade legal.

Nascido durante uma das passagens do Cometa Halley, Twain morreu 74 anos depois, pouco depois do astro voltar a se aproximar da Terra. "Será a maior decepção da minha vida se eu não for embora com o cometa", escrevera ele em 1909. "O Todo-Poderoso disse, indubitavelmente: 'cá estão esses dois inexplicáveis fenômenos; eles chegaram juntos, e devem partir juntos'".

Classificações
Média 5.39
Baseado em 82,5 mil de audiências de filme e serie de TV ao longo do tempo
Em formação
Conhecido(a) por
Writing
Gênero
Masculino
Nascimento
1835-11-30
Dia da morte
1910-04-21 (74 anos)
Nome de nascença
Samuel Langhorne Clemens
Local de nascimento
Florida, United States of America
Religião
atheism
Altura
Cônjuge
Olivia Langdon Clemens
Crianças
Susy Clemens, Jean Clemens, Clara Clemens
Pai
John Marshall Clemens
Mãe
Jane Lampton
Irmãos
Orion Clemens
Cidadanias
United States of America
Residências
Mark Twain House, United States of America
Também conhecido(a) como
Марк Твен, Samuel Langhorne Clemens, Samuel Clemens
Prêmios
member of the Nevada Writers Hall of Fame, member of the Nevada Newspaper Hall of Fame, honorary doctor of the Yale University
Mark Twain

Filmografia

Em formação

Pessoas Relacionadas